Raider Brigade Twilight Parade Celebrates Another Great Year of JROTC
June 12, 2019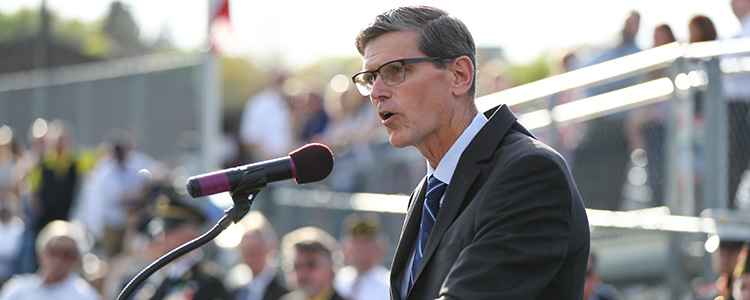 General Joseph L. Votel '76 was the guest speaker and reviewing officer at the Raider Brigade Twilight Parade on May 15. General Votel retired recently from his position as CENTCOM Commander. He served in the military for nearly 40 years.
"Having the honor of General Votel speak to the Corps of Cadets is an occasion which enhances the storied history of JROTC at Cretin-Derham Hall," said SGM David Berrisford. "General Votel served our nation with honor, integrity, courage, and humility. His message to the cadets was clear and spot on. We can't thank him enough for honoring us with his time and wisdom."
Many students were honored at the annual event. They included:
 

 

 

 

 

 

 

Cadet Command Superior Cadet Award
Owen Mische
Will Domler
David Ek
Ben Weber

Sons of the American Revolution Medal
William Anderson
Henry Votel

Sons of Union Veterans of the Civil War 
Aidan Vitek

Daughters of the American Revolution
Teagan Foley

American Legion Scholastic Excellence
Ted Hoover
Monica Calkins
Kieran White

American Legion Military Excellence
Edmundo Villalva-Lijo
Isaac Enriquez-Olvera
Christian Pornschloegl 

Military Officers Association of America
Andrew Bussen

Reserve Officers Association
Matteo Marchio 

Veterans of Foreign Wars
Zach Sommerfeld
Raheem Ross
Brian Willems

American Veterans Association
Joe Sexton

Association of the U.S. Army
Darby Anderson

Military Order of the Purple Heart
Hunter Hansen

Daughters of the American Colonists
Vianca Grassi-Cueto

National Sojourners
Martha Enestvedt

USMC Scholastic Excellence
Josh Nelson

USMC Distinguished Athlete
Margaret Musolf
Mikey Hannon

U.S. Army Recruiting Command
Nick Ball

U.S. Army Reserve Scholar-Athlete
Ellie Doughterty
Seamus Foley

Ronald Reagan Student Leader
Charlie Casper
Robbie Kruger

Minnesota Society Daughters of 1812
Mary Andrzejek

JROTC Citizenship Award
Ethan Overland
Jon Anderson
Charles Lindell
August Hughes

Raider Brigade Academic Excellence
Joey Schwirtz
Will Burke
Rylie Cormell
Avery Cavanaugh

Raider Brigade Military Excellence
Ian Weninger
Nick Osley
Simon Baumberger
Will Davis
Connor O'Donnel
Maggie Huermann

Raider Brigade Service Excellence
Sam Clausen
Max Karas
Jessica Lutmer
Sam Pizinger

William Brothers Scholarship
Jack Patwell
Sean Xiong
Natasha Krieger

Distinguished Award for Academic Excellence
Christian Strommen
Subscribe to our e-Newsletters
You might also like: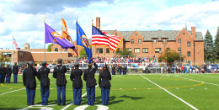 Congratulations to the JROTC cadets who would have received awards at the Twilight Parade!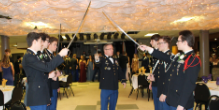 On February 22, Cretin- Derham Hall hosted the Military Ball for students in Junior ROTC.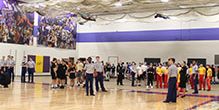 350 students from 14 schools competed in four major competitions.