Raider Spring Sports Are On Fire
Tony Yazbeck, Assistant Athletic Director
May 18, 2023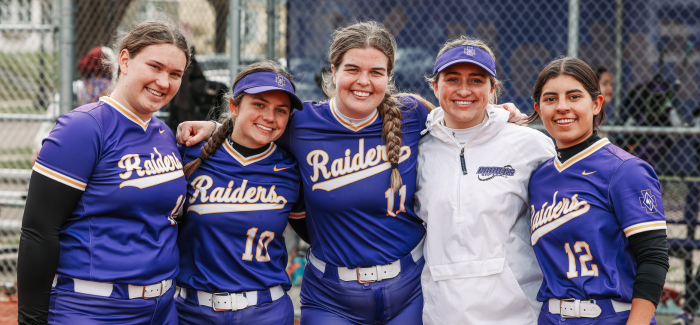 It has been a very busy spring sports season, with over 450 student-athletes participating in one of our many athletics programs, including baseball, softball, boys golf, girls golf, track & field, boys lacrosse, girls lacrosse and boys tennis.
"We are incredibly grateful for the support of our CDH Community," said Athletic Director Matt Funk. "We have had a great spring season, full of Raider pride and accomplishments. Our student-athletes represented CDH with integrity and sportsmanship. I could not be more proud."
Here is an update of each sport:
Varsity Baseball: 2023 Suburban East Champions with a current record of 15-2 and ranked #1 in the state. They will be the #1 seed in their section and are looking for their first trip back to State since 2007.
Varsity Softball: Softball has had the best year in recent memory with a 13-7 record and a win over #2 Stillwater on May 1. They look to be a top 2 seed as sectional begin.
Boys Golf: 2023 Suburban East Champions. They have dominated their competition this year with brilliant play from Miles Bollinger '24, Joe Honsa '25, Sam Udovich '25, Owen Nelson '25, Michael Markley '26 and Cameron Cassidy '25. They look to return to state for the first time since 2016.
Girls Golf: Suburban East Conference leader Lily Vincelli '24 has won most of her matches on the year and continues to establish herself as one of the very best golfers in the state. They will compete in sectional play on June 1.
Track and Field: Girls' track and field is off to a great start with veteran leaders like Piper Lee '23, Katie Chestovich '24, and Clare Lasure '25 taking the lead in their event groups. Chestovich won the open 800m at the Eden Prairie Booster Invitational. Lasure has been gaining momentum in the hurdle events placing well at Eden Prairie and Woodbury. Lee has been taking on the 400m and not only leading her team but also finishing first in Woodbury. Grace McSherry '25, a sophomore first year jumper for the team has been reaching further into the pit in both the long and the triple jump. At the Tom Moore Invitational in Woodbury, McSherry won both the long and the triple jump. We have been fortunate to have these and many other athletes perform well at our early meets, giving us confidence as we start moving into the championship season later in May.
Boys' track and field has enjoyed a good start to the season. With the weather this spring staying cool and wet we have missed some opportunities to compete, but that has not prevented us from being creative in how we practice. We continue to focus on increasing our speed and doing the fundamental exercises that will increase this important aspect of not only track and field but all sports. Liam McLay '24 has been leading the distance crew and is pursuing ever faster times. Steven Flashing '23 and Alim Kamara '23 have been pushing the bar on the sprint side. Keyon Archer '25 has stepped up his role in the jumps taking on the triple and long jump this year. Flashing hit a 6' high jump at Woodbury leading the team in that event as well. With hard work  and consistency as our cornerstones, we are looking forward to the championship part of our season starting the second half of May.
Girls Lacrosse: The GLAX team finds itself competing for the SEC Championship and a potential #1 seed in the upcoming sectional playoffs. The Raiders currently have the state's top goal scorer in Sofia Watts '24 and 7th grader Jordin Rosga who has 50 goals on the season.
Boys Lacrosse: Boys Lacrosse is on a 5 game winning streak as they head into sectional playoffs. They are looking for their first ever state tournament appearance this season and are led by Luke Chorlton '24 and Louie Bailey '23. Chorlton just recorded his 100th career goal last week vs. Mounds View.
Boys Tennis: In the midst of a youth movement and playing good teams, they have gained valuable experience. They will return their entire team next season ready to take the next step and have their eyes on their first state tournament appearance since 2014.
Subscribe to our e-Newsletters