Remi Pye '22 Honored for Leadership
March 9, 2022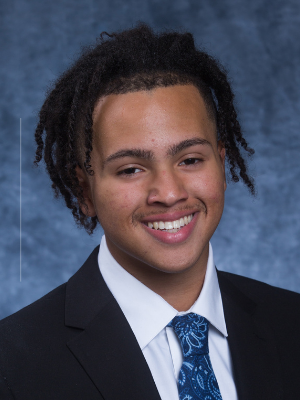 Remi Pye '22 has been honored with the Stacy Robinson Leadership Award. This award honors the late Stacy Robinson, a St. Paul Central graduate who left a strong legacy of community leadership and excellence in athletics. Pye will receive a college scholarship and be honored on Bally Sports North early this summer.
Pye has been a member of the CDH football team for four years, but his nominators focused on his efforts off the field. Outside of school, he is an active member of the St. Paul NAACP's youth division, participating in rallies, peaceful protests, and working on cleanup crews in the summer of 2020. He volunteers at Dorothy Day Center, and has organized supply drives at school to collect essential items for people experiencing homelessness. He is also a member of the Student Council Executive Board, and the founder and President of the Student Coalition that works closely with Interim Director of Diversity Stan Davis '88 to ensure the experiences and voices of current students of color at CDH are heard.
"The impact Remi has had at CDH has fundamentally changed the way our community will function into the future," said Football Coach Chuck Miesbauer '03 in his nomination letter. "The work Remi is doing as a young person for his community is uncommon. Remi has consistently put himself in vulnerable positions to stand for his beliefs. He is still standing."
Remi's ability to bridge the gap between students and adults is one of his unique talents that have made him so impactful at CDH.
"Remi is willing to help organize and meet with administration to bring attention to the needs of the students," said Crystal Flint, Student Advocate, in her nomination letter. "A young man that I hadn't previously heard speak more than a few sentences was able to articulate the voice of the masses while not being intimidated by adults. What I appreciate the most is Remi's willingness to always be inclusive and make sure that all students' voices are heard and not just his own."
Pye plans to major in Biology and then attend medical school, while continuing to be an activist.
"For me, activism is every day," he said. "There aren't days where I can choose to be silent about certain issues; you've got to stand for what you believe on and I try to live by that. I'm so grateful that I was nominated for this scholarship. I thank the people who nominated me for this award. The cost of college was a barrier for me and this grant will help me with that."
Subscribe to our e-Newsletters
You might also like: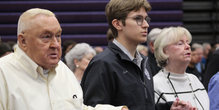 Grandparents Mass is back! We were so glad to welcome familiar faces and new friends for this special event.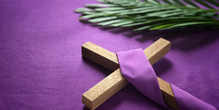 Ash Wednesday marks the beginning of Lent. Each year, Christians are reminded of our temporal human existence, and come together to hold up the blessed gift of Life Eternal given to us by our God's love and grace through the person of Jesus Christ.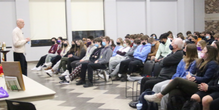 Brother Paul Joslin, who served in Guatemala alongside Blessed Brother James Miller, shared his memories of their work and Blessed James' death.