Sam Dougherty: CDH creates a strong foundation
Greta Cunningham '23, Communications Intern
November 16, 2023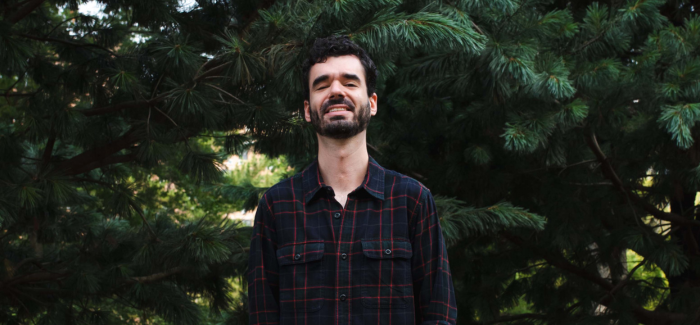 Even 1,000 miles away at Hogan Lovells firm in New York City, Sam Dougherty '09 hasn't forgotten his roots at Cretin-Derham Hall, generously supporting the school he credits with the foundation for his proceeding academic and professional journey in law. 
"I was very fortunate," said Dougherty. "I just had a really good experience, and I hope I can help others have the same." 
In particular, Dougherty remembers English with Sheila Malone-Povolny, referred to by students as "Ms. MP," and Spectrum, a senior interdisciplinary class combining English, religion, and social studies through the lens of social justice.
"I had Ms. MP as a sophomore, and she really taught me how to write. She's so tough, but she's right about everything and really cares. Now, I write for a living, more or less, and it all started with her," he said. "Later, Spectrum assigned really challenging and thought provoking books, and I think it expanded our worldview and allowed us to have discussions that would not be typical of a high school classroom. My writing experience at CDH, along with the way I was taught to be aware of the world, was a real foundation for me."
And his teachers weren't only making an impact in the classroom. 
"When I was in school, I used a wheelchair because I had a disability where I would get tired easily. I could walk around my classroom but not the hallway, for example, so I wasn't able to play sports even though I loved them," said Dougherty. "Marshall Mullenbach, who was a math teacher and JV baseball coach at the time, asked if I would like to help manage the team. I had never considered that before, but I did it, and it was super fun. I was the key manager for varsity and JV baseball my sophomore through senior year. A lot of my friends played, and it was just really cool."
In addition to managing baseball, Dougherty was involved in theater, service, and rooting for Raider sports year-round. 
"A bunch of my friends and I organized tailgating for all the football games. Every Friday in the fall, we'd leave right after school and head to wherever we were playing," he said. "We don't normally think of high schoolers as being super aware, but I was in the front all the time at those games because they carved out space for me. In order to transport my wheelchair, my family had a special van with a ramp, and my friend was always willing to drive it so I could carpool with everyone. People were very thoughtful, and I don't think that it was a coincidence that they all went to the same school."
At the end of his senior year, Dougherty was recognized with the Archbishop John Ireland Award, the highest distinction offered at CDH, in tandem with the Mother Seraphine Ireland Award. The designations are named to honor the Irelands' essential establishment of Catholic education in St. Paul, including but not limited to the University of St. Thomas, St. Thomas Academy, St. Catherine's University, and Derham Hall. Each year, two seniors, male and female, are selected by their peers for their faith, leadership, integrity, and commitment to service and social justice to receive the distinction. 
"I really think receiving that award was a product of the environment I was in. Not that I had nothing to do with it, but there were people around me, both kids and adults, who provided opportunities that might not have been obvious to some people, like my friends thinking about where I could find a ramp or teachers thinking of things I might enjoy. It all added up to create a perfect little petri dish for me to be able to do some really cool stuff," he said. 
After CDH, Dougherty went to Boston College for his undergraduate degree. He graduated cum laude from Boston College Law School, where he wrote for the Boston College Law Review. While completing his JD, he worked with the Anti-Terrorism and National Security Unit of the United States Attorney's Office and studied at Bucerius Law School in Hamburg, Germany, one of the premier law schools in the country. 
"Thanks to Ms. MP, I loved to write, and, thanks to Mr. Peick (Rob Peick), I loved to read, and law school fit both of those interests," he said. "I found a community there that I felt was similar to CDH. A lot of people went out of their way to show they were invested in me and my peers. It was a very collaborative environment where it was really believed that a rising tide lifts all boats. It was challenging and difficult, but it all comes back to the same formula: teachers and students. If both of them are invested in a personal way, then it's going to work out pretty well."
In 2018, Dougherty started working for Hogan Lovells, where he specializes in complex litigation and international arbitration. 
"Litigation is when two parties sue each other. I typically represent defendants, people who are being sued or companies who are being sued, and am involved in a lot of class action suits where a group of individuals come together to sue a company," he said, "On the other hand, arbitration is one alternative to going to court; it's more private. It's not in a public courtroom and is confidential but tends to go a little faster. I do a lot of international arbitration, so our clients are not typically based in the US." 
While work keeps him busy, Dougherty also enjoys trying new restaurants, traveling, and the chance to visit home when he can.
"My advice for CDH students today is don't be afraid to ask for help and show up for people," he said. "I just hope that other kids will have similarly impactful experiences."
Subscribe to our e-Newsletters