Senior Girls Reflect on CDH Experience at Retreat
By Bailey Collmann '20 and Ana Cullen '20
October 3, 2019

From September 22-23, more than 70 senior girls attended a senior women's retreat at Camp St. Croix in Hudson, WI. This retreat is held every year as these young women begin their final journey in high school.
Each year the retreat format is different depending on how the senior leaders plan each day and what themes and focus they find to be the most important. This year Bailey Collmann '20 and Ana Cullen '20, with the help of Lou Anne Tighe from Campus Ministry, planned the retreat. 
The girls arrived at Camp St. Croix on a beautiful Sunday morning. The first group event was an opening prayer and explanation of the theme of the weekend, which was "Spotlight on our Souls."
Throughout the weekend, there was a particular emphasis on giving time to discover more of themselves and others, while also giving each retreat participant the time to rest and reflect on past years and this important, upcoming senior year. After our opening, everyone received a journal that would be used throughout the weekend for reflection. Each girl had the opportunity to personalize their journals and have other senior girls sign them. 
Our next activity was led by Suzanne Cranston, painting and drawing teacher. She taught the girls how to create an image of Minnesota on canvas. Some chose to learn her ombré technique, while others freestyled on their own background. We used a Minnesota stencil to make the shape of our home state on the painting. This painting provided a great opportunity for discussion between the girls and a gift of an image of our home.
As the art dried, Ann Marie Froehle, anatomy and physiology teacher, talked to the girls about the development of our brains and how different factors can affect its growth.
We then had time to walk around the campgrounds, visit the beach, hang out in cabins, or take a nap. After some much-needed downtime, we participated in a BONDfire, where we reflected in our journals about things we were grateful for, what we need to let go of, new beliefs we have, and ways in which we have grown. We also shared those things with other girls.
At the conclusion of this activity, a biodegradable Chinese lantern was given to each group, and the girls were asked to write something on the lantern that they were going to try to let go of in the coming year. We walked down to the river and released the lanterns into the sky off the beautiful beach at Camp St. Croix.  Afterwards, we had a traditional bonfire where we made s'mores, talked, and sang together.
Our final event of the night was a circle of prayer. We were in a dark room with just a circle of light made with candles (one for each of us) in the middle. Ms. Tighe led us in prayer and then opened up the circle to anyone who wanted to talk about our high school years: what we have learned, what we are thankful for, and our hopes for senior year. We then gave each girl a candle to remember the intentions we had set and concluded with listening/singing along to different songs as we left the lodge and headed back to our cabins for the night. 
We started off the following day with breakfast and then small group sessions of yoga and journaling with English teacher Jenny Markert, and another talk with Ms. Froehle, where we learned more about our bodies. We packed up and were ready to go shortly after lunch.
We ended this great time together with a closing circle, where we prayed and thanked each other for our time spent together. 
The retreat was one every girl in attendance is going to remember. We all became closer as a class and truly understood the significance of creating bonds and memories as it truly set in that this was our last year together.
Subscribe to our e-Newsletters
You might also like: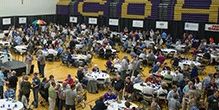 The 2020 Taste of CDH is coming up on April 18.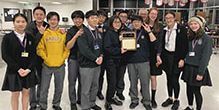 The CDH Math Team finished second in the St. Paul City Division of the Minnesota State High School Mathematics League.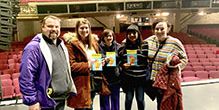 CDH Theater ventured off to New York City for the annual Broadway Theater Trip February 23–26.