Service Committee Projects Make a Difference
April 15, 2019

The annual Blood Drive, held on April 3 this year, is a beloved CDH tradition, and a great opportunity for our community to literally give the gift of life. 
The Blood Drive is run by members of the Student Council Service Committee and is always a big success.
"It's heartening to see the school be so interested," said Olivia Kalla '20. In fact, she noted that it can be disappointing if a student doesn't qualify for giving blood for any number of reasons. "Getting deferred ruins their day."
Some members of the community have made giving blood a big part of their life. Religion teacher Tim Teuber earned a pin for giving three gallons of blood so far in his lifetime!
Hygiene Drive for St. Kate's
The same week as the Blood Drive, other members of the Service Committee held a Hygiene Drive for St. Kate's, collecting essential hygiene supplies for people experiencing food insecurity. Members of the committee had the opportunity to visit St. Kate's and learn about the need there. 
Service and giving back are essential parts of the CDH experience, and we're proud to see students taking on important leadership roles to make a difference in our community.
Subscribe to our e-Newsletters
You might also like: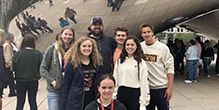 Students attended the LaSallian Youth Assembly in Chicago from June 17-21.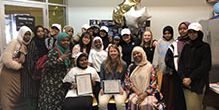 This year, CDH had the unique opportunity to partner with the TASHO Community in Minneapolis, a nonprofit dedicated to serving the local Somali community.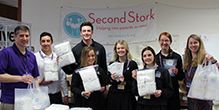 Student pack supplies for new families in need.