Student Athletes Recognized in Commitment Ceremony
By Grant Bowman '24 and Gideon Teuber '24
November 8, 2023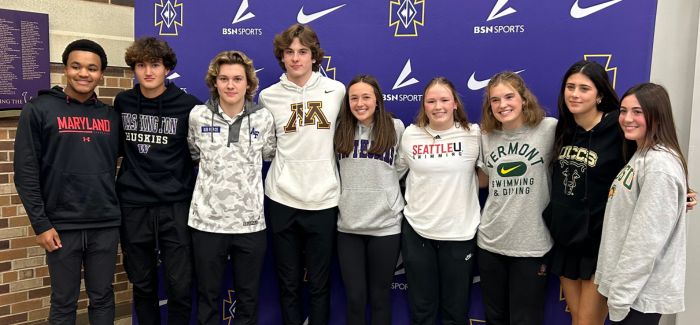 Cretin-Derham Hall has a history of producing high level collegiate athletes and that trend continues with the class of 2024. The Raiders have 9 students signing to 9 different schools this year. 
Julian Banks '23 will be playing Men's Soccer at the University of Washington. Banks was a standout with the Minnesota United program and will play for a Huskie team that is headed to the Big Ten Conference next season. Washington has two signature wins this season over #3 Indiana and #5 Portland.
Paul Jones '24 is the first baseman for the Raiders baseball team, and has decided to continue his baseball career at the University of Maryland. When asked how his years of Raider baseball have prepared him for the future, he said "CDH baseball has taught me many lessons throughout my 4 years. It's helped me push through hard times, learn how to be a better leader, and ultimately become a better player." He said he decided to be a Terrapin because the school "felt like it was home" after his call with Coach Swope, Maryland's head baseball coach. Jones continued, "He has been great in developing hitters and getting them drafted which is why I think it's a perfect fit for me. When I visited and saw the campus I fell in love with it even more which really solidified my decision." Paul has been a crucial part of Raider baseball since he was a freshman and looks forward to his time in Maryland. 
On the ice, the Raiders have Chuck Owens '24 committing to the Air Force Academy. He's been a great forward and a key player for the Raiders in his time at CDH. Chuck helped his team reach the Minnesota State Hockey Tournament at Xcel Energy Center the past two seasons. We asked him about how Raider hockey helped prepare him for signing day and he said "My years at CDH have made me the student athlete that I am today. Arriving at CDH my freshman year I did not know what to expect because I was not able to shadow due to Covid. I honestly just trusted Coach Matt Funk when he talked to me about the culture of CDH and the hockey program. The past three years have shaped me into a young man and I am proud to say I am a Raider. Looking forward to the '24 season!" He said he chose to continue his career at the Air Force Academy "based on my friends who I grew up playing hockey with and because of the success of their hockey program. My dream since I was a kid as a student athlete was to make it to the Minnesota state high school hockey tournament. Obviously I made the right decision about where to go. The boys have made it the past two years and hope to make another run this year. Besides hockey, which was my main focus, the school itself is very welcoming to all and I felt very comfortable academically too. CDH was the perfect fit for me and I am honored to represent my classmates at the highest level." 
Jake Quinn '24 is staying in the Twin Cities and representing his state, playing for the University of Minnesota. Jake has been a part of Raider baseball since he was a freshman, moving up to the varsity squad in his sophomore year. When asked to reflect on his time at CDH, Jake said "Being a CDH athlete has helped me understand what it means to be a part of a community and what it means to represent one. I have been shown a standard for athletics but also in life that will prepare me for life's obstacles. Overall I'm extremely blessed to call myself a Raider." When asked why he chose to be a Minnesota Golden Gopher he said  "I grew up watching the maroon and gold every chance I could, and ever since I've wanted to put on a jersey with Minnesota on it. I live in Saint Paul, 12 minutes from campus. The Gophers are my hometown team. It is also very important for me that my family and friends can come watch me play without booking a plane ticket. Another aspect is the coaching staff is filled with experience and knowledge. I feel very comfortable in their care, and I feel like they were super legit with me from the get go. I know they can help me maximize my potential. The program's history is also eye-catching as they are the most historic team in the Big 10. I fell in love with the atmosphere and the facilities. I'm extremely blessed to be able to call myself a future Gopher, and can't wait to be a part of the team."  
Izzy Macheel '24 is a leader for the Raiders swim team and is committing to the University of Vermont. When asked how her years at CDH have prepared her for the road ahead, she said "I think the girls swim and dive team has greatly prepared me for swimming in college. I can't wait to continue on in the sport I love, even though leaving the CDH swim and dive team will definitely be hard. We are a close knit team that works together to build each other up. I hope my college athletic career will come close to the great experience I've had swimming with CDH." Macheel is very excited for her time at Vermont, saying "I knew that I wanted to go to a school that I would love regardless of swimming. I wanted a cool place with great people and definitely found that at Vermont. Once I started the recruiting process I knew it would be a great place for me. I am so honored that they have recruited me to swim there. I think the team and school will be a wonderful experience, and I cannot wait to start my swim career there." 
Molly Magnuson '24 is headed to Seattle University to continue her swimming career. Magnuson was a key member and leader of the Raiders swim team. When we asked her about her time as a Raider she said: "The CDH girls swim team has taught me many things to carry into college. From maintaining a structured work ethic to surrounding myself with people who make the hard practices so much easier. Overall the team has made my years in high school mean so much more and has given me experiences that will be with me forever." Magnuson says she chose to be a RedHawk because "the team was so welcoming and a supportive environment. I have always wanted to live in Seattle and once I realized the school was perfect for me, all the pieces added together and I knew it was the place." 
Annie Mulcahy '24 has been a key piece to the Raider Girls soccer team for four years. Annie is signing with a local school, the University of St.Thomas, to play soccer. Mulcahy has been a leader for the Raiders, especially this year leading her team with 16 goals and 8 assists. Annie says "CDH has prepared me for signing day because of all the support my coaches, teammates, friends, and teachers have given me. CDH has given me a place to challenge myself and the best support system." When asked why she chose UST, she said "right when I stepped on campus I felt at home. I can't wait to study and play soccer at this amazing school!" 
Lily Vincelli '24 is signing with North Dakota State University to continue her golf career. Vincelli impressed on the course in her time as a Raider and will look to continue her success at the next level. The Bison are coached by Matt Johnson and have started their 2023-24 campaign strong finishing 1st in the Loyola Parkinson Family Invitational. Vincelli will join a strong program in Fargo. 
Sofia Watts '24 will be playing lacrosse for Colorado at Colorado Springs. Watts will bring her talents to the Mountain Lions who play in the RMAC conference. UCCS finished with a 11-7 record last season and Watts will join a program that went 8-4 in conference play including wins over Fort Lewis and Missouri Western State.
We wish all 9 of these student-athletes the very best as they take the next step in their athletic and academic journey.
Subscribe to our e-Newsletters