Students See Great Theater and Meet Inspiring Alumni in NYC
March 6, 2019

From February 13 – 17, seven Theater students and two chaperones (Katie Kreitzer and Chris Hill) ventured to the Big Apple for the 9th annual CDH Theater New York Trip. The trip's main focus is to experience Broadway Theater and to connect with alumni who are working in NYC. The trip has two main purposes: pushing their standards of excellence by viewing theater at its highest level, while simultaneously understanding that a career in the arts is attainable.
The group divided the trip into sections, and each participant wrote a paragraph about their experience.  
Ella Mooney '21
There were so many firsts for me on this trip: My first time in New York City, my first time seeing a Broadway play, and my first time considering what I might do in the future. I loved the wide genre of plays we attended. But Friday night's performance of "Be More Chill" resonated with me the most because it is about the difficulty of navigating through high school. The trip was very educational and gave me the opportunity to get to know some of my classmates even better than before.
Emma Cotty '22
The New York City trip showed me how many different jobs there are in the world of theater. We were able to talk to several alumni, who are all successfully working in different theater areas, which was super helpful to me to see just how many ways a person can be involved in theater professionally. Our first night in NYC, we met Andrew Watkins who just finished his role as Assistant Director on the Broadway play, The Network. That same night, we met Dillon Cody '00 (a sound designer) who was running sound for the musical, Superhero, Emily Nelson '12 (an actor and a playwright), Erik Wallin '99 (a General Theater Manager), and  Pat Tracy '01 (a television writer). Just meeting these alumni made me realize all of the possibilities I could pursue in the theater world. I also saw how much fun work can be when you love your job.
Hunter Hansen '20
On our first night in New York City, we attended a new musical at Second Stage Theater. This theater, located in the heart of the theater district, just blocks from our hotel, features brand new works that are hoping to become official Broadway shows. The musical was called "Superhero," and the Tony Award and Pulitzer Prize-winning writers Tom Kitt and John Logan sat two seats behind us. We witnessed them taking copious notes while watching the show. Because the sound designer was a CDH graduate, we were given the opportunity to speak with two of the cast members after the show. We learned about their journeys to becoming Broadway actors as well as the unique experience of being in a show that is being changed daily in hopes of becoming the next Broadway hit.
The second day of our trip started off with a walk through Central Park and a trip to the Guggenheim Art Museum. The museum's featured artist was Hilma af Klint, a radical abstract painter who focused a lot of her work on her spirituality. After the dose of culture, we got ready for our first big Broadway musical, "Be More Chill."  The musical is based on the 2004 novel of the same name and developed a huge following while off-Broadway. We got to see this show in its second performance with the original Broadway cast. After the show, we ran to the stage door to meet the actors.  One of the actors gave all her fans a Valentine. It was amazing!
Alice Spong '21
The next morning, we hopped on the subway and headed over to Brooklyn, where we had a tour of Saint Ann's Warehouse. Saint Anne's Warehouse is a theater that has a reputation for innovative theater from around the world. They were not in production at the time, so we were able to take a tour. It was a fascinating experience to learn about the building and how this company came to be. I loved hearing about Erik Wallin and the work that he does there. We talked briefly about the job options if we decide to pursue theater after high school, which was very useful. Overall, this trip to St. Anns Warehouse was very eye-opening and captivating.
That evening we saw our third show, the classic musical "Kiss Me Kate." I think the group connected with the show immediately because of our experience producing "42nd Street" last year. The two shows had similar themes and definitely a similar style. This was a star-studded show, with Tony Award winner Kelli O'Hara playing the lead role and Corbin Bleu playing a main character.
Emma Schuld '20
The next morning, we got to experience "rushing tickets". If you don't know what that is, it's when you stand in line early in the morning for tickets to shows for that same day. The box offices at the theaters usually don't open until about 10 am, so we switched off coffee breaks so that we stayed warm. Luckily, it wasn't too cold! All of the students got tickets to the shows they were hoping to get. The group split up and saw the following matinee performances: "The Prom," "To Kill a Mockingbird," and "The Ferryman." Every student on the trip saw the musical "Mean Girls" on Saturday evening. We paid about $40 for each ticket and got really good seats, which is a great deal! In fact, most of us got front row tickets to Mean Girls with almost all of the Original Broadway Cast! It was a dream come true for the few of us who had been following the show since it's Off-Broadway run.
We ended the night with a special birthday surprise for Alice Spong '21. Her parents gave the chaperones some money to do something special for us in honor of her birthday. The chaperones took us to New York City's only revolving rooftop restaurant, 48 floors up. We had a beautiful view of the city after a long and tiring, but very rewarding, day.
Claire Davies '21
On the final day of our New York trip, we attended a church service at St. Patrick's Cathedral. We walked from our hotel to the church, which was absolutely gorgeous. There were massive doorways with elegant designs and large crowds of people entering inside them. Once inside, organ music played loudly as people went in and out of the church. There was an opportunity to light a candle as a prayer for somebody. So many little candles were lit, and most of us lit one of our own. After doing so, we sat down in one of the many pews. There were so many rows of pews that it seemed as though they went on forever. As the mass started, the music came to an end and the priest began the sermon. Between the stained glass windows, unique high ceiling and huge organ, the interior of the church was incredible. The service itself was beautiful. I was very glad to get to experience a Mass inside of St. Patrick's Cathedral and it definitely exceeded my expectations.
Teagan Foley '21
This trip was truly one I will never forget. As I watched all of the amazing plays we saw I once again fell in love with theater and now I know I want to do theater the rest of my life. I heard music that made me feel things that the top 40 charts never could and heard singing that I believed could only be achieved by auto tune. This trip gave me such wonderful experiences and I am eternally grateful to get to be a part of it.
Subscribe to our e-Newsletters
You might also like: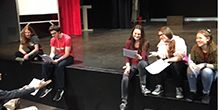 In just 24 hours, students wrote, cast, directed, and performed their own plays.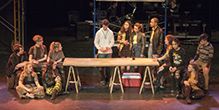 This year's spring musical, Jesus Christ Superstar, was a huge success.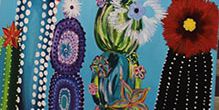 Fine Arts week is a chance for students to show off their work in a variety of mediums.