Teachers Train on Swivl
October 1, 2020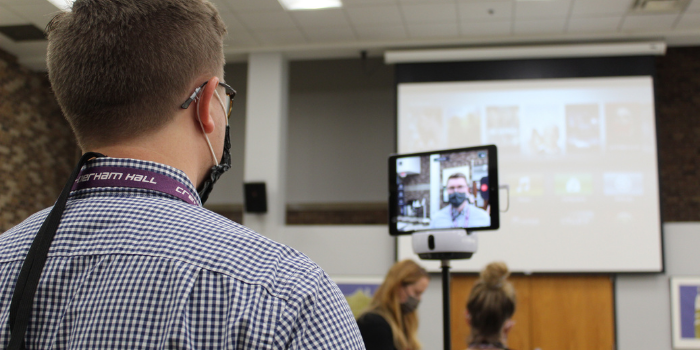 In response to the complex challenges of hybrid learning, CDH faculty and staff have collaborated to develop new and creative methods of teaching a student audience that alternates between the classroom and home.
On Monday, teachers trained on the use of the Swivl device, an innovative tool that reduces barriers between classroom activities and remote students. The Swivl is a robotic mount for an electronic device that uses a marker designed to track the presenter with audio and video capabilities. 
Using the tracking technology and the 360-degree rotating platform, the presenter can broadcast or record lectures and presentations in a natural atmosphere, which allows for unrestricted movement throughout the classroom (i.e. whiteboard use, experimentations, demonstrations, etc.).
"The Swivl is a supplemental tool for teachers to optimize the quality of their instruction," explained Director of Technology Carole Loufek. "Once CDH transitioned to hybrid learning, our objective was to select technologies that support this model while not detracting from teachers' regular instructional cadence. In combination with Zoom, the classroom audio-visual set up, and Bluetooth audio speakers, Swivl gives all students access to the 'classroom' simultaneously."
Teachers have spent considerable time imagining, discussing, brain storming, and practicing how to engage with these teaching tools to create an optimal, uniform learning experience for the students. With these technologies, teachers can seamlessly incorporate a variety of activities throughout the class period (e.g. group work, class discussions, lecture, kinesthetic activities, panel discussions).
"I'm hoping the Swivl will bridge the gap and bring students together as one class, rather than twelve and twelve," said Patty Murray, Spanish teacher.
Ultimately, the incorporation of the Swivl technology will allow for a robust transition to synchronous learning, where students have a parallel experience at home as in the classroom. The expectation of participation for students logging in from home will mirror that of students sitting in the classroom. 
"Many parents have mentioned how excited they are to go fully synchronous and have their students feel part of the larger community of the classroom," said Assistant Principal Amy Bellus '90.
Essential to the hybrid-learning model, the Swivl allows full engagement between teachers and students regardless of their physical location as CDH continues to effectively manage this historic pandemic and provide pragmatic solutions for all students.
Subscribe to our e-Newsletters
You might also like: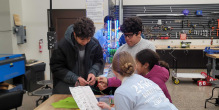 Rob Stupka STEAM week included ECO-STEAM CASA, a STEM Center Open House, a Middle School Camp and a ForTomorrow Mosaic.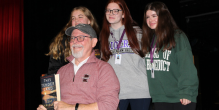 CDH Values students had the opportunity to talk with William Kent Krueger, author of "This Tender Land," which they recently read in class.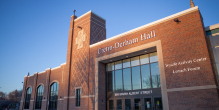 President Search is well underway with a planned Community Forum in November to meet the finalists.