Transformation, One Pancake at a Time
April 8, 2019

For a quarter of a century, Cretin-Derham Hall students have been serving people experiencing homelessness at Dorothy Day Center.
Led by faculty members Jesse Cusick '98 and Joe Miley '11, students volunteer to cook and serve breakfast two weekend days per month. The cooks commit to a full year, and arrive at 7 am to prepare food, with servers showing up a bit later. Students even serve over the summer, because homelessness does not end with the school year.
"It's a good opportunity for our students to become acquainted with the poor, and to see the reality and challenges that they may not otherwise experience," Miley said.
Cusick volunteered at Dorothy Day when he was a student at CDH, and remembers it as a transformational experience. He reflects on a painting of Jesus in the breadline, and the question of where He would go if He were to return. 
"It's really a commitment to live out the gospel," he said.
For the students who participate, cooking and serving at Dorothy Day is an opportunity to build relationships and learn what it means to put others before themselves. 
Students interested in volunteering should contact English teacher Rob Peick at rpeick@c-dh.org, who started the program in the 1990s and continues to be involved. 
Subscribe to our e-Newsletters
You might also like: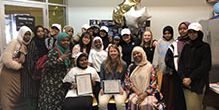 This year, CDH had the unique opportunity to partner with the TASHO Community in Minneapolis, a nonprofit dedicated to serving the local Somali community.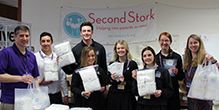 Student pack supplies for new families in need.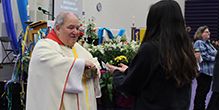 The CDH community joined together to celebrate Easter on April 26.