CDH Mourns the Loss of Legendary Coach Dennis Denning '62
November 16, 2022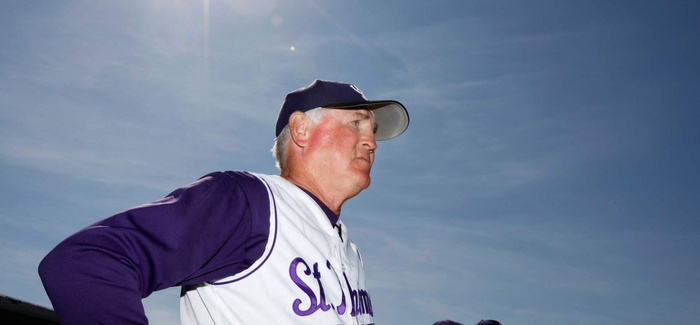 A pillar in the baseball community and one of the most successful coaches of any sport in Cretin-Derham Hall history, legendary coach Dennis Denning '62 passed away in the early hours of Wednesday morning. He was 78 at the time of his death.
Denning was the head coach for the Raiders baseball program for 17 years (1978-1994) and developed our baseball program into a state powerhouse winning six state championships and 15 conference championships while amassing a win/loss record of 379-76.  He also  served as the school's Athletic Director.
Coach Denning departed CDH to become head coach of the University of St. Thomas Baseball Team, a program he led for 15 seasons where he guided the Tommies to two national championships and a career win/loss record of 522-157, before retiring in 2009.
The impact that Denning had on and off the field will always be remembered.
"I had the privilege of playing for Dennis since I was eight years old in his legendary summer camps" said Raiders Head Baseball Coach Buzz Hannahan '94. "In addition, I saw him adapt and morph into the NCAA Hall of Fame coach when I followed him from CDH to St. Thomas. It didn't matter if you were the best kid on the team or the 20th on his roster, he was going to coach you to be the best player your ability allowed you to be. He was so special and will be missed."
Coach Denning was also head coach of the Gold Medal-winning North Squad in the 1989 Summer Olympic Festival.
Denning is a past Dick Siebert Award winner and a past president of the High School Baseball Coaches Association. He was Minnesota High School Coach of the Year four times, Region 3AA Coach of the Year seven times, and was a National High School Coach of the Year finalist three times.
Denning is  a member of the Cretin-Derham Hall Hall of Fame, St. Thomas Athletic Hall of Fame, ABCA Hall of Fame, and Mancini's St. Paul Athletic Hall of Fame.
May he rest in peace. 
Subscribe to our e-Newsletters