Heard in the Halls - May 2022
May 11, 2022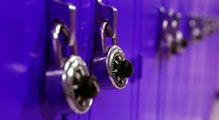 We encourage you to read all the current blogs, or click below to quickly go to a section.
ATHLETICS | COUNSELING | MUSIC |THEATER | JROTC 
Athletics
Boys Golf
By Bob Kinne, Head Coach
We have had a good start to our season with two of our players winning the individual portion of the event in our last two SEC Conference events. Miles Bollinger '24 won when he shot an even par (72) at Stillwater Country Club April 25. Joe Honsa '25 won when he shot a -3 (69) at Midland Hills Country Club May 2. Our team's scores have been heating up with the weather. We have a busy next few weeks coming up before conference finals on May 23.
Girls Golf
By Megan Smith '00, Head Coach
The CDH girls golf team had another huge turnout totaling 48 players for the 2022 season!  
The golf season is coming to an end with conference finals scheduled for Varsity and JV teams on May 18 at Oak Glen golf course. The final practice for the Development Team is May 18 at Highland golf course. The Development Team has been able to play at the Mendota Par 3 every Friday to experience golf course management beyond practices. 
The Varsity players have shown improvement with solid scores and positive attitudes dealing with the weather. Highlights include scores from Ellie Cassidy '23, Lauren Bengtson '24, and Katie Votel '23 at the recent 18-hole Forest Lake Invitational match as well as conference match play from Else Wermager '24, Olivia Reeder '24, Molly Magnuson '24, and Natasha Krieger '22. Notable JV players include: Sydney Johnson '24, Ava Redpath '23, Lily Anderson '23, Jackie Reardon '23, and Claire Baumberger '24. Go Raider Golf!  
Boys Tennis
By Randy Muetzel, Head Coach
The CDH tennis team has been led by its top three singles players, Jack Sweeney '23, Nate Muetzel '22 and Sam Wachlarowicz '22.  Muetzel currently has a 12-2 record at number two singles.The doubles teams have been improving and hope to be playing at their best when team sections begin on Monday, May 16.  There will also be exciting individual section play which starts on Tuesday, May 24.
Counseling
By Joan O'Connell, College Counselor
Attention Juniors 
• Remember to take the online career inventories on Naviance by clicking on the menu then "Self Discovery," then "Personality," "StrengthsExplorer" and "Career Interest Profiler" for some additional career possibilities!  
• Remember to ask for your teacher recommendations for college applications before the end of this school year. Come to the Counseling Office to pick up instructions and forms. 
Attention Senior in the Class of 2022! End of the Year Reminders and Details: 
Final Transcripts 
A reminder that ALL colleges require a final official transcript of your high school grades as proof of graduation and as a condition of enrollment. In mid-June, once all third-trimester grades have been submitted and recorded, CDH will send your final official transcript to the college/university you indicated you will attend on your senior survey and no other request is necessary. If you change your mind about where you will attend, you must let us know. 
If there is a "hold" on your CDH account (unpaid tuition, missing books, damaged iPad for example), we are not able to send your transcript until the hold is satisfied. If you have a college advising/registration appointment prior to mid-June and need a  transcript, you can use an unofficial copy on your Infinite Campus account. Please complete your senior survey on Naviance as soon as possible. 
It is contrary to the "Code of Ethics and Professional Practices" of the National  Association for College Admissions Counseling for students to make multiple college enrollment deposits. CDH will send only one final transcript in June. Consult with your counselor if you need help making your decision. 
PACC (Program for Advanced College Credit) 
Graduates in the Class of 2022 who have paid for PACC credits from St. Mary's University of Minnesota and who want to get college credits for these courses must have a transcript sent from St. Mary's to the college or university where the student will attend this fall. Your college can then determine whether or not they will award college credit for this work in high school. Wait until mid-June to request a college transcript, as  CDH has to get the final grades to the college – usually by early June. Request an official St. Mary's transcript online. Click on "National Student Clearinghouse", and type in Saint Mary's University of Minnesota (it will start auto filling but you must spell out Saint). You will then be able to order your transcript. If you do not know your ID number, you can use your Social Security number. Questions? Call  St. Mary's at 507-457-1501.
CIS (College in the Schools) Classes 
If you took CIS at CDH through the University of Minnesota and want these classes to be considered for college credit at the school you will attend next fall you will need to request an official University of MN transcript. Go to onestop.umn.edu, under the "Academics" tab, and click "Grades & Transcripts" to request your transcript. Instructions will also be given to you by your CDH teacher.
AP Scores 
To send your AP scores to your college, go to their site and follow instructions. Scores for tests taken in May of 2022 will be available in July. 
Tuition Reciprocity 
Graduating seniors who are planning to attend state colleges and universities in Wisconsin must file a "Tuition Reciprocity Application" with the Minnesota Higher Education Services Office in order to receive tuition reciprocity. Applications for the 2022-2023 academic year are available online. This application must be filed and approved before a student can register for classes at the reduced tuition rate - so don't delay. If you are attending a public university in North or  South Dakota, arrange for reciprocity through the school you will attend. 
Thank Your Teachers! 
Please remember that CDH teachers write hundreds of letters of recommendation for students as they apply to colleges and universities - over and above all the other responsibilities they have as classroom teachers and coaches. Be sure to let your recommenders know where you have decided to attend college in the fall and please take a minute to thank them for this very important work that they do on your behalf.
JROTC
By Col. Joe Scrocca, SGM David Berrisford, and MSG Ken Peloski
After a two-year hiatus, more than 200 cadets and their guests took part in a time-honored military tradition last month as the annual JROTC Military Ball was held at TST Catering and Event Hall in St. Paul. The cadets looked sharp in their full dress uniforms and evening gowns, enjoyed a great meal, farewelled the departing seniors with a saber arch, and had a blast dancing and building comradery and unit esprit de corps.  
Congratulations to all of the cadets who were honored during the CDH Spring Awards ceremony, especially cadets Ben Weber '22 and Karl Westermeyer '22 who were recognized for earning appointments to the United States Air Force Academy in Colorado Springs. They will join five other previous CDH JROTC alumnus currently attending U.S. military service academies, as well as Air Force Brigadier General Paul Moga '91, who is the current Commandant of Cadets at the Air Force Academy.  
Congratulations as well to the cadets who earned the final promotions of the school year last month.  Promoted to Captain was Madigan Rios '22. Promoted to First Lieutenant were Nick Ryan '22 and Owen Vitek '22. Promoted to Second Lieutenant were Alex Atkinson '23, Hugh Burda '23, Nolan Keefe '23, Paris Edwards '23, Anders Engstrom '23, Alex Fruen '23, Ream Hashel '23, Madeline Hertle '23, Olivia Kimlinger '23, and Stefan Xiong '23.  Promoted to Sergeant First Class were Trevor Ball '22, Eli Cobenais '22, Spencer Goulet '22, Connor Howe '22, Tyson Sanders '22, Dylon Teachworth '22, and George Weinberger '22.  
And finally, congrats are also in order for Cadets Nick Ryan and George Weinberger who earned their Boy Scots of America Eagle Scout badge last month.  
Thanks to all those who attended the 104th Twilight Parade and Awards Ceremony on Wingerd Field last week.  
Thanks as well to the support of the MN Air National Guard 133rd Airlift Wing, as part of the Flight Club, 25 cadets were able to enjoy a C-130 Hercules flight, observe some in-flight aeromedical training, and see what it takes to fly an Air Force cargo plane as they observed Colonel Andy Burda in the cockpit.  
While most of our JROTC co-curricular activities have finished up for the year, many cadets are still volunteering their time as part of the Honor Guard for the Baccalaureate Mass, Graduation, and other events, while the Color Guard has a full schedule of events to support from softball games, to lacrosse games to Veterans ceremonies from now through the end of the summer.  
In our final event of the school year, 12 cadets will participate in the JROTC Cadet Leadership Challenge at Camp Wilderness in Bemidji from June 1-5  In this CDH-led event, Raider Brigade cadets will join cadets from other JROTC programs in team-building activities and get the opportunity to go rappelling, canoeing, and rock climbing while practicing and building their leadership skills.  
Subscribe to our e-Newsletters
You might also like: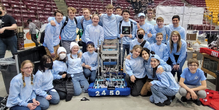 Robotics won the Team Spirit award at both competitions this season.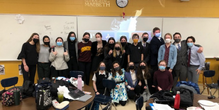 Congratulations to the Varsity Mock Trial team on making it to State!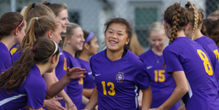 Co-Curriculars are the building blocks of community at CDH. By Greta Cunningham '23, Communications Apprentice.