2021 at Cretin-Derham Hall
December 27, 2021
It's been a busy year at CDH! Take a look at the biggest news from each month of 2021, and look forward to a great 2022.
January - Announcing New Ryan STEM Center
We were so excited to announce this new addition at the beginning of the year! Construction was in progress during most of 2021, and the space is now open for students to use! 
February - New School Structure Planned for March 15
After a full year of distance and hybrid learning, we were so excited to welcome all of our students back full-time in mid-March of 2021. While the pandemic still isn't behind us, we've been grateful to have all of our students back in person.
March - A Note From My Mother and a Hairdresser's License
This profile of Michael Cole '71 was reprinted from our Traditions magazine. Cole shared his journey from struggling in high school to succeeding in business, and his commitment to helping today's students learn.
April - Awards Ceremony Honors Students
We have so many impressive students at CDH! In April, we recognized many of them at our Awards Ceremony. Check out the list of students who were honored!
May - Congratulations to Our Retirees!
Seven beloved faculty members retired last school year, and our community made this Q&A with them one of the most read stories of the year! We continue to miss these excellent teachers, and hope they are enjoying this new chapter!
June - Celebrating Graduation With the Class of 2021
The Class of 2021 had a challenging last year and a half of their high school experience, and we were so proud of everything they accomplished! It was wonderful to celebrate their graduation at the Cathedral.
July - STEM Opportunities for all Students
This Q&A with Science teacher Steph Aumann was a reprint from Traditions that was a popular read over the summer! Aumann is committed to helping all students develop critical thinking skills and succeed in STEM classes. 
August - The Stanley Cup Visits CDH
Ryan McDonagh '07 and the Tampa Bay Lightning won the Stanley Cup in both 2020 and 2021. This August, he brought the Cup to CDH and met with our hockey teams.
September - A Rivalry Reignited
For the first time since 2005, CDH and St. Thomas Academy matched up in football. The game was played at TCO Stadium and community members gathered to tailgate ahead of time. The two schools are now in the same conference and will play each other regularly.
October - Outstanding Raiders Honored at Community Awards Dinner
Ten exceptional Raiders were honored at the Community Awards Dinner on October 25. This annual celebration recognizes alumni and community members who have excelled in business, generosity, and exemplifying the values of Cretin-Derham Hall.
November - Student-Athletes Sign to D1 Schools
Six seniors signed to play sports at the D1 level! They shared what they love about their sports and why they chose these schools.
December - Celebrating the Life of Religion Teacher Joe Moss
The year ended with the heartbreaking loss of Joe Moss, who taught at CDH for 11 years. Students, alumni, and faculty shared their memories and lessons learned from Moss.
Thank you for being part of our 2021! Please join us in praying for a happy and healthy 2022.
Subscribe to our e-Newsletters
You might also like: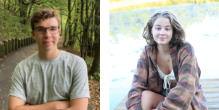 Congratulations to Maddie Schearer '22 and Samuel Wachlarowicz '22!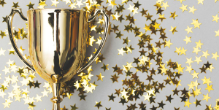 Dozens of outstanding students were recognized at the Awards Ceremony on Wednesday, April 28.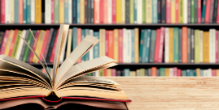 Three exceptional seniors received awards from the Counseling Department.