Gina Shields Armada '93
Chief Operating Officer, MHC Software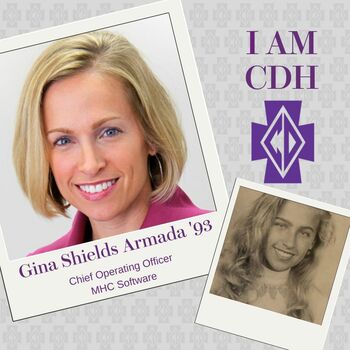 How has your high school experience impacted your life?
High school prepared me very well for college - both inside and outside the classroom. CDH taught me about servant leadership before I even understood its true value.
What advice would you give a current CDH student?
1) Take advantage of as many extra-curricular activities as you can - both as a participant and a supporter. There are invaluable lifelong lessons to be learned beyond the classroom.
2) Seek and embrace feedback to improve your writing, analytical, verbal communication and other skills. You have direct access to dedicated teachers who know your name and want you to be prepared to walk out the doors of CDH upon graduation.
What does being a graduate of Cretin-Derham Hall mean to you?
I know that I graduated from CDH, the high school, and transitioned into CDH, the community. Now I get to watch my son take that journey as he starts 9th grade at CDH.
What is your favorite memory of high school?
I have two memories that stand out above all others:
1) Our softball team taking 2nd place in the MN State tournament.
2) Participating in the eye-opening and life-altering service trip to Su Casa on the south side of Chicago with several teachers and classmates.
Why is it important to you to support our school?
CDH gave me a lot - friends, academic preparation, experiences - so it is important to me to give back to CDH.