Jane Salmen McGough '79
President, Human Capital Partners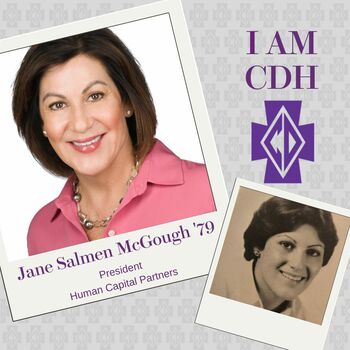 How has your high school experience impacted your life?
In more ways than I can explain. Lifelong treasured friendships are among the most important.
What advice would you give a current CDH student?
Work hard, have fun, be kind.
What does being a graduate of Derham Hall mean to you?
I am very proud to be a graduate of Derham Hall. Whenever I have the opportunity to tell people, I do.
What is your favorite memory of high school?
I have so many. They all involve the wonderful, kind, funny, compassionate and, yes, sometimes crazy young women in the class of 1979.
Why is it important to you to support our school?
My father was given the opportunity to attend Cretin High School. His family did not have the resources to send him there but the Christian Brothers made sure that was not a barrier. Over the many years since then, I have seen Cretin, Derham Hall and now Cretin-Derham Hall remove those barriers for other deserving students. It makes me proud to be an alumnus.