Mary Jule Unger Erickson '77
President/CFO, Hightop Hospitality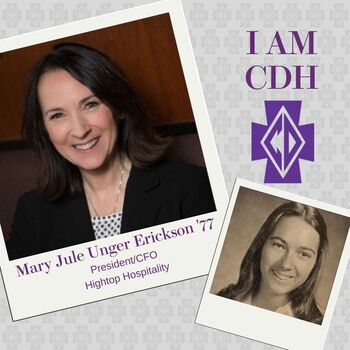 How has your high school experience impacted your life?
Derham Hall provided me with a strong foundation upon which I conduct both my personal and professional life. I learned traits such as honesty, compassion, integrity, loyalty, responsibility, and fairness. The lifelong friendships I made at Derham were life-changing and to this day impact me and my family like no others. It is a true community that supports one another through all of the ups and downs of life.
What advice would you give a current CDH student?
Be open to all of the new experiences Cretin-Derham Hall has to offer. Don't be afraid to push yourself, you'll be amazed at the wonderful opportunities you might otherwise have missed.
"Be honest. Be humble. Listen more than you talk." ― Jeff Zentner, Goodbye Days
What does being a graduate of Derham Hall mean to you?
It gives me great pride and joy when I say I am a graduate of Derham Hall! Derham Hall, and now Cretin-Derham Hall, has an amazing reputation out in the community of providing an excellent, values-based education as well as being an open and welcoming institution. I am forever grateful for the relationships that I developed at Derham Hall. I have lifelong friends that will continue to be an important part of my life.
What is your favorite memory of high school?
Celebration Day! I loved the last day of school when we celebrated the completion of another year at Derham Hall with the entire student body out on the front lawn singing the school song.
Why is it important to you to support our school?
It is important to me to afford the opportunity to young women and men to experience the high level of education, committed teachers, and welcoming community that is CDH.