Continuing Our Commitment to Dismantling Racism
May 10, 2021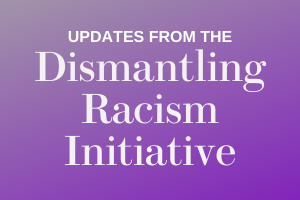 Cretin-Derham Hall made a commitment to Dismantling Racism in summer 2020, and we are continuing to pursue that mission with zeal. Diversity and Equity are two of our seven core values, and our school cannot be a truly diverse and equitable place without a commitment to anti-racism. Our daily prayer calls us to "love God and the dear neighbor without distinction." We aim to live out that prayer every day.
After a student protest on April 19, the conversation on our campus around these important issues has become even more urgent. We know that there is a lot of work still to be done.
After the nationwide protests last summer after the murder of George Floyd, CDH announced a concentrated focus on the issue of racism on our campus. Throughout the school year, progress has been made in a number of ways:
Summer 2020
Fall 2020
Winter 2020-21
Spring 2021
This work has only just begun.
CDH will continue this focus into the 2021-22 school year and beyond. We will be hiring a DEI Coordinator/Student Advocate, and Cultural Competency and Bias-Free Classroom Training will be the primary Professional Development focus for faculty and staff in 2021-22. The Steering Committee and subcommittees have been working hard to develop recommendations for changes that can be made at CDH, and those recommendations will guide much of our specific work going forward.
Our goal is for Cretin-Derham Hall to be a place where all people feel welcomed, respected, and cared for. Each and every day, we are called to love God and the dear neighbor, without distinction.
Subscribe to our e-Newsletters